About Project
Resource Efficient and Cleaner Production (RECP) applies proven preventive environmental approaches and productivity concepts for the triple benefits of improved resource productivity (hence reduced operational costs and reduced use of materials, energy and water), reduced environmental impacts (less waste, emissions and pollution) and improved occupational and community health and safety. RECP is a cornerstone of Sustainable Consumption and Production (SCP), particularly in the manufacturing and related productive sectors. UNIDO has gained valuable experience in implementing RECP in the Eastern Neighbourhood (EaP) region.
The programme is aimed at improving resource efficiency and environmental performance in each of the six EaP countries (Armenia, Azerbaijan, Belarus, Georgia, Moldova and Ukraine), in particular in the prioritized agro-food, chemicals and construction materials' sectors, through the widespread adaptation and adoption of RECP methods, practices and techniques. Specific outputs pertain to building capacity for RECP service delivery, implementation at enterprise level and fostering of technology innovation.
Agro-food processing, chemical and construction materials' sectors are specifically targeted given the current and expected future contributions of these sectors to the economies at large, their potential for job creation and development of small and medium enterprises, and their significant resource-use and pollution footprints. Inclusion of agro-food sector further supports decentralization of economic growth to rural and remote areas, which have in many cases remained deprived from past economic growth. Moreover, further development of the construction materials sector is pivotal for urban and infrastructure developments.
News / Events
Validation Workshop "Upsc...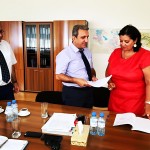 REC C has started preparato...
Strategic environmental ass...