Vacancies
Regional Environmental Center for the Caucasus
TITLE:  Experts on Resource Efficiency and Clean Production
PROJECT: Resource Efficient and Cleaner Production (RECP) Demonstration Programme in Armenia
START DATE/ TIME:  ASAP
DURATION:  1 year.
LOCATION:  Yerevan, Armenia
SUMMARY OF THE PROJECT: REC Caucasus Armenia National Office will provide the following services to facilitate UNIDO RECP Demonstration programme in Armenia aimed to improve resource productivity and environmental performance of business at the regional and national levels particularly in agro /food processing, chemicals and construction materials sectors prioritized by the Government of Armenia as proposed areas for UNIDO RECP intervention.
JOB DESCRIPTION:  National RECP experts are to provide necessary services including training and assessment of potential RECP methodology and its application to selected demonstrated organizations, to improve their awareness and understanding of RECP, its benefits and contribution to sustainable development, and which started to take up specific measures for implementation, in particular in the prioritized sectors, included but not limited to food and beverages, construction materials and chemicals.
JOB RESPONSIBILITIES:
Participation in RECP methodology trainings assessment of potential RECP methodology.
Organization and conduction seminars and trainings aimed to demonstrate the potential RECP methodology and its application to selected demonstrated organizations, and to improve resource productivity and environmental performance in agro/food processing, chemicals and construction materials.
Provide support in organization of meetings, seminars, discussions and assistance to the REC Caucasus activities, events and related duties.
Implementation other Project tasks as per instruction of Project National Coordinator and Administrative Unit.
REQUIRED QUALIFICATIONS:
Advanced university degree in field relevant to RECP;
Good understanding of RECP, EaP Green programme, Green Economy, Green Growth, Clean production, Energy efficiency.
Experience of working with governmental structures, local administration, donor organizations, non-governmental organizations and private sector;
Good organizational and interpersonal skills, tact and high sense of responsibility;
Good time management skills;
Ability to clearly express ideas in oral and written forms, accuracy in task implementation and concentration;
Ability to work under pressure and with strict deadlines;
Good interpersonal and communication skills;
Ability to establish and maintain working relations in a team and independently;
Proven excellent experience of working with computer, applications, Word, Excel, Access, Internet search engines and office equipment;
Native speaker of Armenian and good knowledge of written and oral English. Knowledge of Russian is an asset.
APPLICATION PROCEDURES:  To apply, please send your CV to Mr. Tigran Oganezov at: tigran.oganezov@rec-caucasus.org . Short-listed candidates will be invited to the interview.
OPENING DATE:  19 June 2015
APPLICATION DEADLINE:  July 2015
ABOUT COMPANY:  REC Caucasus Armenian National Office is a non-entrepreneurial (non-commercial) legal person – an independent, not-for-profit organization with international character. The mission of REC Caucasus is to assist the Caucasus states in solving environmental problems and support in building the civil society through promotion of public participation in the decision-making process, development of free exchange of information and encouragement of cooperation at national and regional level among NGOs, governments, businesses, local communities and all other stakeholders.
News / Events
Validation Workshop "Upsc...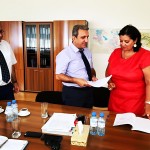 REC C has started preparato...
Strategic environmental ass...