Development of Mew modules for International Bachelor and Master Programmes in Sustainable Tourism Management
Development of new modules for international bachelor and master programmes in sustainable tourism management
Duration
15.11.2012 – 14.10.2015 (3 years)
Objective
A multi-country project to modernize curricula in sustainable tourism management (SuToMa) and develop a joint understanding about the principles.
Occasion
Tourism is a regional priority for the Caucasus but an underdeveloped field in all three countries. Especially for Europeans the entire Caucasus is a fascinating area with a rich cultural history and biodiversity/the cradle of European mankind.
Our perspective
Only a sustainable regional development within the tourism sector meets the expectations of these target groups and guarantees a long- term economic, social and ecological welfare for local people and following generations.
Partners
30 universities, enterprises and NGOs in Azerbaijan, Armenia and Georgia.
European partners in Ireland and Latvia
Targets
12 new modules for innovative topics, such as
integration of theory and praxis,
intercultural communication,
eLearning and IT technologies, to be implemented in existing and new BSc. and MSc,
study programmes, accredited with ECTS
interdisciplinary approach such as agriculture, tourism and business studies.
Outcomes
a common understanding of sustainability and regional development
modules created according to the Bologna standards
comparable qualification standards
new methods and materials for teacher and tutor training
formal integration of practical placements in the curricula
regular monitoring of milestones
implementation of eLearning platform
new international academic cooperation
Chronology
Development of modules: first year
Training of teachers: second year
Testing with students: third year
News / Events
Validation Workshop "Upsc...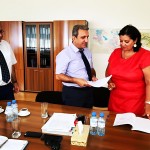 REC C has started preparato...
Strategic environmental ass...