Developing National Legal Framework on SEA in Armenia – 2nd Legal Roundtable
14.02.2017

Legal roundtable is organised by the Ministry of Nature Protection of the Republic of Armenia in cooperation with the United Nations Economic Commission for Europe (UNECE) and the Regional Environmental Center for Caucasus (REC C) in the framework of the EU funded Programme 'Greening the Economies in the Eastern Neighbourhood'[1] and framework MOU between UNECE and REC C on Organisation of capacity-building activities to support the implementation of EIA and SEA procedures Armenia. It will be held as a part of the process on developing the national legal framework on SEA in Armenia. The 2nd legal roundtable will follow the outcomes of the 'Roundtable on integration of the SEA procedure into the national legal framework of Armenia' organized in March 2016 (detailed information can be found at https://www.unece.org/es/environmental-policy/conventions/environmental-assessment/meetings-and-events/environmental-impact-assessment/workshops-eap-green/2016/the-legal-roundtable-and-sea-workshop-in-armenia/doc.html#/). The aim of the 2nd roundtable is to present elaborated draft legislation package on suggestive amendments on Strategic environmental assessment, with the emphasis on the roles and responsibilities of the main actors and stakeholders in the SEA system. The feedback from the participants will be considered when finalizing the amendments to the national Law and draft Governmental Decree on SEA implementation. Relevant examples of SEA procedures from other countries will be presented and discussed at the roundtable by UNECE international team to improve existing national framework on SEA and to raise efficiency of internal procedures and monitoring related to environmental and health risks within SEA cycle. The event shall gather representatives of the sectoral ministries responsible for preparation of the plans and programmes in the key economic sectors, as well as representatives of non-governmental organisations, national experts and other relevant stakeholders. For more information on event and project kindly contact REC Caucasus office in Yerevan Tel: 011 574743 or e mail: nune.harutyunyan@rec-caucasus.org.
News / Events
Resource Efficiency and Cle...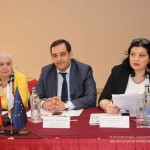 National Consultation Works...
Developing National Legal F...